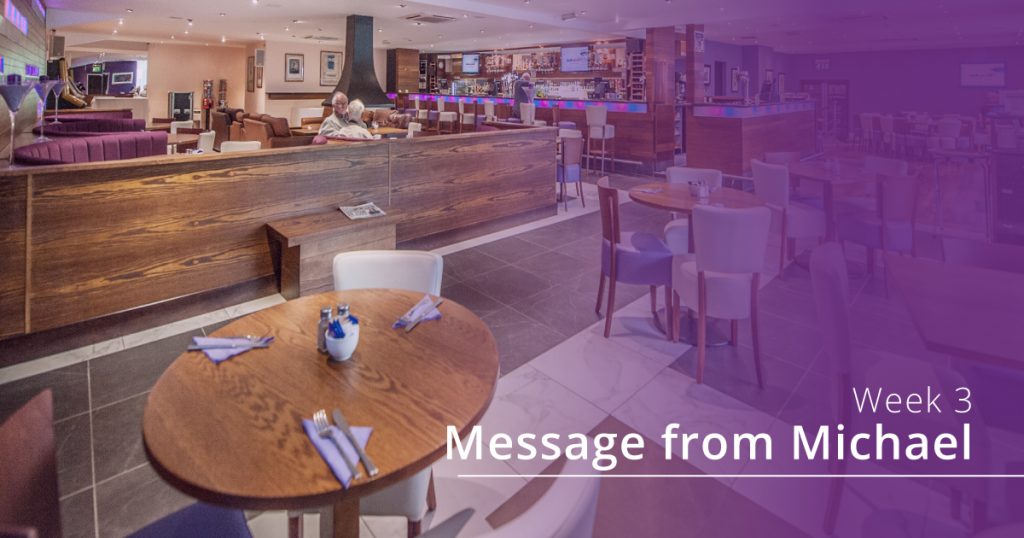 Dear Members,
I wanted to send an email out again after another week of multiple mind changes and soul searching. Trying to describe the last few weeks is almost impossible to put into words. Watching the daily footage on the news channels unravel from around the world but most importantly Britain really does put things into perspective. The government assistance promised and the bank lending money with ease and speed have really not come to fruition as once believed. Parklands have chosen to keep all staff on and we are currently using cash reserves to secure payments long before we get this financial aid. I have also chosen to use this time to employ a new roofing firm to try and rectify some of the ongoing water ingress concerns.
I have personally gone through shock, fear anger and for the 2nd time in my life, anxiety, as I have been forced to close my own business and see the hurt and pain of customers, colleagues and friends around me having to do the same. The worst part is that we do not know how long this will go on for. Will I be able to keep all of my staff employed throughout this period? Will Parklands have any customers left when trade resumes and restrictions are lifted? Am I, as an operator strong enough to deal with this? All of these are questions that continually have been tossed around in my mind since the lock-down commenced.  I have no doubt nearly all of you are experiencing the same level of uncertainty that I am. However, to the above, myself and my team have every confidence that the answer is yes.
After 17 days now of letting the wave of emotions flood over me and spending most of this in isolation, I am starting to find that the clarity is coming back to my thought process and the initial shock of this situation has started to wear off. Will it be possible to continue trading is the biggest question I have had to ask myself. Will there be a number of challenges and obstacles put in our way on the road to recovery? As an entrepreneur, business owner, manager and leader, have I ever let that get in the way of success before?
The situation we all find ourselves currently in is quite clearly unprecedented and I think this is a time when generally, people do not know the answers until we have a date to look forward to. We temporarily ceased trading on my birthday which will now always be remembered by me as the day that changed the rest of my life. We closed our doors with a positive bank balance and with a fighting chance of reopening with the strength and innovation we had before. So please bear with us and together we can help hospitality, leisure and tourism flourish once again.
Healthy Wishes to you and your families,
Michael