Supporting Destination Wedding Cancellations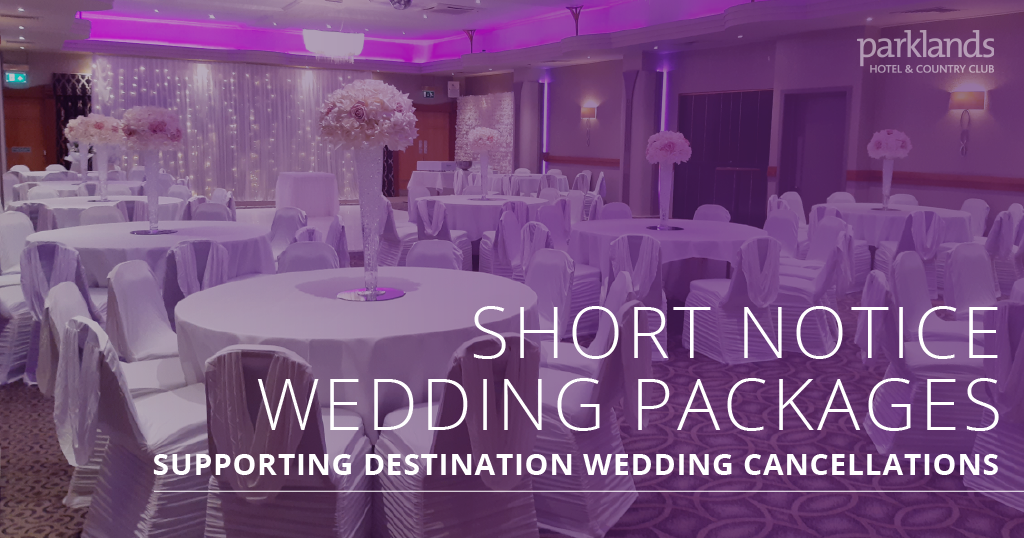 During this difficult time for brides & grooms, we want to let you know that Parklands is here for you if your wedding plans need to change with our brand new Easy Short Notice Wedding Packages.
As travelling is put to a halt for the time being, destination weddings are being cancelled and disrupted. This may be a stressful time for couples in the throes of planning their wedding. But fear not, Parklands are here to help!
Our wonderful wedding coordinators are highly experienced in creating unforgettable events, and have awards to show for it! They are experienced in creating a day to remember in just a short amount of time, and with regular communication from our planners, you can design a day that celebrates your love in record time!

Our stunning boutique hotel provides a tranquil setting that does not stray too far from Glasgow's city centre. Relax into the leafy suburbs of Newton Mearns whilst we help your guests to feel at home. Our patio and roof terrace means guests can enjoy the fresh air and you can take your pictures as a newly married couple overlooking Crookfur Park.
Your personal wedding coordinator will ensure that our beautiful and adaptable suites reflect your style and every detail works perfectly for you. We can even bring a taste of summer to our local luxury venue and create a theme that reflects your dream destination.

We have access to delicious menus, fabulous cake makers and DJs who will keep your guests on their feet all night long! We are happy to recommend suppliers that will help to make every aspect of your day perfect. We can even help when it comes to communicating with your guests, providing everybody with the necessary information so you can relax knowing nobody is in the dark.
After your evening reception, Parklands is the perfect spot for an overnight stay and a scrumptious breakfast! Unwind into our honeymoon suite (we suggest you check this out!) knowing that each of your guests are having a wonderful night's rest.

Each package can be tailored to suit every couple's needs. We will create your package bespoke to you so that no stone goes unturned, no matter how quickly you are looking to organise your dream wedding!
No matter what your wedding needs, Parklands are here for you! Get in touch with our event coordinators today to discuss our wedding packages for 2020.