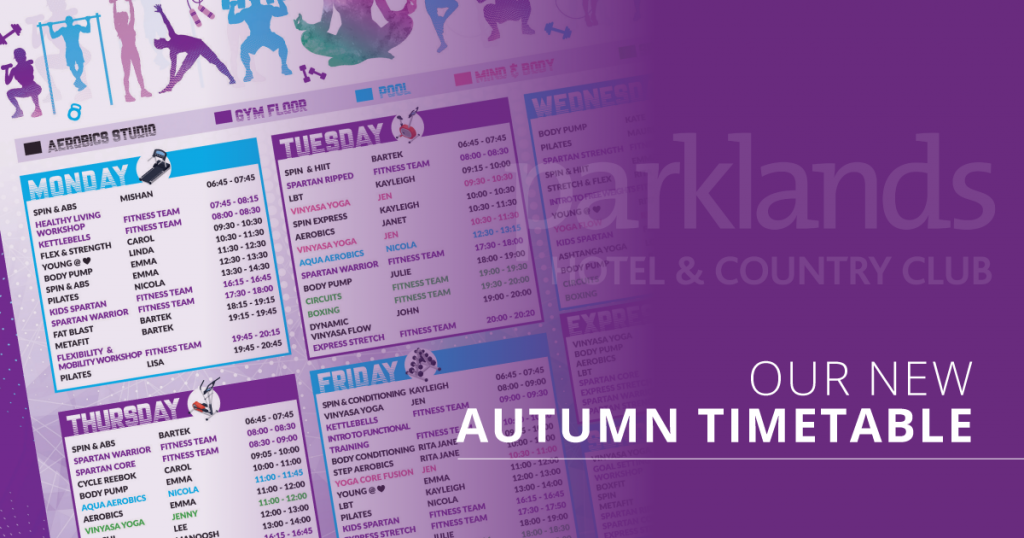 While summer may be at an end, things are still heating up in the Parklands gym!
On Monday the 2nd of September, we will be rolling out a brand new weekly timetable of exercise classes, which offers a wide variety of instructed sessions that are suitable for people of all abilities. You can experience everything from circuit training and spinning to tai-chi and yoga, every day of the week in our fantastic studio facilities.
Available to anyone over the age of 14, exercise classes at Parklands Gym run for hour or 30-minute long sessions and are a great way to train in a friendly environment with high-quality coaching and support.
Visit our gym page for more information, or download our Autumn 2019 timetable below:
All classes work on a first come first serve basis, and for pay-as-you-go members are priced at £4 per 30-minute class and £6.50 per hour class. While most classes are drop-in only, all Spin and Yoga classes MUST be booked in advance due to high demand.
So, whether you're looking to continue your summer training or even start exercising for the first time, there's sure to be a class on our timetable that will be perfect for you!
To see more updates on our classes, as well as training tips for our gym, follow our Gym & Spa page on Facebook.
If you'd like more information on any of our classes, or how to become a member of our Gym & Country Club, please feel free to give us a call at reception on 0141 639 9012.